Amanda Gargano, CEC, CCE, M.S.Ed.
---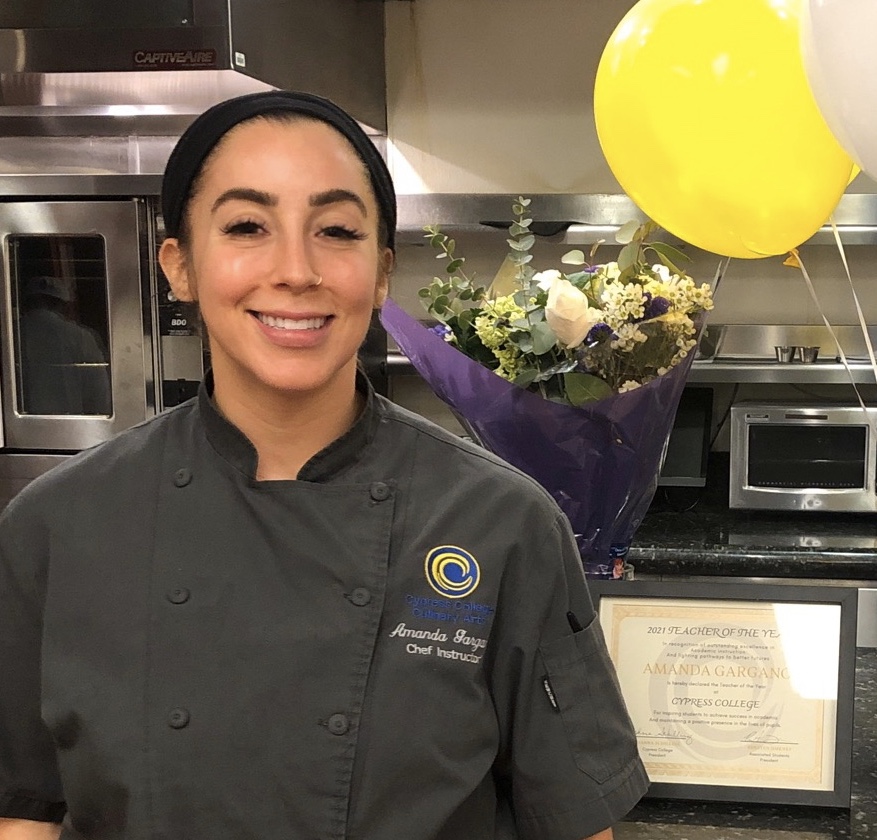 ---
About Professor Gargano
I grew up in the restaurant industry in Chicago, and worked and traveled throughout the country and abroad in my culinary adventures. I am passionate about teaching and sharing my love for the industry with our students. I believe that hands-on, collaborative learning positively impacts student success.
Before Cypress College, I worked as an Executive Chef for several years in New York, as well as a Chef Instructor at a vocational high school. Other career highlights include working for the Breakers Resort in Palm Beach, Florida and Macy's Culinary Council in Chicago.
Recommended Courses
HRC 100 Nutrition
HRC 100 explores the relationships between the foods we eat and their impact on the body, including health and weight. This course covers the relationship between diet, health and disease. By the end of the course, you will have the knowledge and skills to implement positive food choices in your own life to help reach your personal lifestyle goals.
HRC 145 The Art of Garde Manger
HRC 145 combines the honing of core preparation techniques with the application of technical skills to produce a variety of items traditionally created by the "cold kitchen." Through a combination of classroom and lab activities, you will gain confidence in areas such as knife skills, hors d'ouevres preparation and sausage-making, as well as processes such as tempering and emulsification.
Classes
HRC 145 The Art of Garde Manger
This course will focus on the discussion, application and production methods utilized in today's modern Garde Manger kitchen. Topics will include hot and cold hors d'oeuvres, cold set mousse, concepts and applications of salt-curing meats fish and principles of smoking.
Course Requirements
Prerequisite: Completion of HRC 120 and HRC 135
HRC 145 is a hybrid course format designed for the online learning and lab activities to complement each other. You will need knowledge of how to use a computer, browse the web, send and receive emails and use a word processing program. The classroom portion of the course will take place in an online learning environment.
Required textbook: Garde Manger: The Art and Craft of the Cold Kitchen (4th ed) by The Culinary Institute of America
Resource Links
Resources
www.acfchefs.org
The American Culinary Federation is a professional organization for chefs and cooks. It offers a variety of resources, including certification requirements, job postings and scholarship opportunities.
www.restaurant.org
Comprehensive website with career information, current events, industry resource links and student scholarship information.