Becky Floyd, B.A., M.A.
---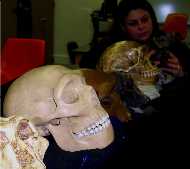 Email: bfloyd@cypresscollege.edu
Phone: (714) 484-7021
Office Hours: Fall/Spring – Monday 12:05-12:35 p.m., Tuesday 9:40-10:40 a.m., Wednesday 8:35-9:05 a.m., Thursday 9:40-10:40 a.m., (virtual Monday/Wednesday 2:30-3 p.m.), Summer/Winter – NONE
Location: Humanities Building (HUM) room 222D
---
Attention students wishing to add my classes that are full
You MUST place yourself on the waitlist and follow all registration procedures if a space becomes available before the class starts. I cannot alter the waitlist process, reinstate you if you are dropped, or add you if you fail to register during the waitlist invitation-to-register time window. I cannot give add codes during the registration period. After the class starts, I will use the waitlist to distribute add codes when possible.
For online classes, waitlisted students will be notified via email if they can be added.
For on campus classes, waitlisted students must attend the first class meeting to find out if they can be added.
Petitioners not on the waitlist will not be considered. Being on the waitlist does not guarantee a spot in the class.
If you need registration or waitlist help, please contact Admissions & Records. Thank you.
Registered students seeking textbook information should visit the bookstore website. All books listed are required. I do not distribute syllabi early or to non-enrolled students.
About Professor Floyd
I have been teaching at Cypress College since 2005, and I am currently the Anthropology Department Chair. All together, I have been teaching college since 2001. My career in anthropology started somewhat accidentally when I found myself in a cultural anthropology class at Riverside Community College. After the first week, I was hooked. I went on to complete my B.A. in Anthropology at Cal State Fullerton, and my M.A. in Anthropology at the University of Montana – Missoula, where I concentrated on biological anthropology and specialized in forensic anthropology. It was while I served as a teaching assistant in my graduate program that I seriously considered teaching college for the first time. That summer after graduation I began teaching part-time at another local college and, again, after the first week I was hooked.
Since I began as a full-time instructor here at Cypress, I have introduced and developed many new courses, such as ANTH 107 C Magic, Witchcraft and Religion, ANTH 105 C Introduction to Linguistic Anthropology, ANTH 106 C World Prehistory, and ANTH 210 C Intro to Forensic Anthropology, and revised all of our other courses to meet the changes in the discipline and the changing needs of the 21st century student. One of those changes have been to develop online courses in anthropology, and we currently offer ANTH 101 C and 102 C online. We also have an AA degree in Anthropology. Anthropology is such a well-rounded discipline making this a great starter degree for anyone as well as a capstone of achievement for a student's time at Cypress.
Please visit the class schedule to find course numbers, titles, days/times and other schedule information for my courses. Complete course descriptions for all anthropology courses are available in the College Catalog.
Recommended Course
ANTH 210 C Intro to Forensic Anthropology
I've always been interested in forensic anthropology, long before shows like Bones and CSI went on the air. One thing I've learned from those shows is that they're not always accurate. With this introductory course, you can learn what is, and is not, possible in forensic anthropology. For example, you can tell age, sex and height from skeletal remains, but cool 3-D computer generated modeling of facial reconstruction is still in the works.
So, if you want to learn a little bit about the tales dead men do tell, this class is for you! (Offered in the fall semester only).
Resources
For My Online Students
I will be emailing a welcome letter seven and three days before your course is scheduled to begin, and again on the day it starts. This letter will contain all of the information you need to get started with the course.
Three days before the class begins, I'll make the course site on Canvas available for you to officially check in, get the syllabus, and orient yourself with the course.
Please review these frequently asked questions (FAQs).
Please visit our schedule of classes to find course numbers, titles, days/times, and other schedule information for my courses. Complete course descriptions for all anthropology courses are available in the college catalog.