Penny (Lillian) Gabourie, B.A., M.S.
---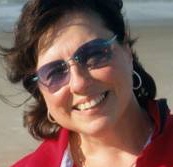 Email: pgabourie@cypresscollege.edu
Phone: (714) 484-7129
Office Hours: By appointment on Monday, Tuesday, Thursday, and Friday
Location: Transfer Center 2nd floor of the Student Center
---
About Counselor Gabourie
I have been a counselor here at Cypress College since 1991. During that time, I have had the opportunity to do many things and work on some very interesting special projects. Currently, I have three different assignments here at the school.
I spend most of my time as the Transfer Center Director. This is where I get to plan programs and activities to help students gather information about universities, transfer requirements and the transfer process. I also answer the tough transfer questions for students and counselors.
Secondly, I am the counselor for the Honors Program. I teach a couple of Honors courses and meet with bright, motivated students to facilitate their goal of transferring to some of our most prestigious universities.
Finally, I am a Licensed Marriage Family Therapist and I do crisis counseling in the Health Center one day and one evening a week.
Working here at Cypress College is a most satisfying occupation because I get to watch students grow and change as they take on their lives. I also love the variety of activities that I get to engage in every week.
Recommended Courses
COUN 160HC Honors University Transition
This is an enhanced orientation to the transfer process required for Honors students. It transfers to California State Universities. This course is critical for students preparing to transfer. Taking the course early will help you save time and transfer more efficiently.
Counseling 160HC Honors College/University Transition is a one unit course that is transferable to the California State University. It is an enhanced orientation to the transfer process. The purpose is to help you select a transfer institution, understand what is required to transfer and make a plan to transfer to the school of your choice. We will also cover higher education in California, financial aid options, and priority application filing deadlines. An important part of the class is developing an autobiographical essay and personal portfolio. DUPLICATE CREDIT NOT GRANTED FOR COUN 160 C.
This course is conducted entirely online on our Canvas course site. There is a mandatory on-campus orientation the first week of class. You will need to have access to a computer. If you don't have a computer and internet access at home there are computers in the L/LRC (Library Learning Resource Center) that are available for student use.
COUN 135HC Honors Leadership
This is a fabulous course for personal leadership development. It is now UC transferable. Remember that it is only offered spring semester.
This is a three-unit class that is transferable to the California State University and the University of California. It includes the study and practical application of group and individual leadership techniques. It is designed to improve awareness of group dynamics, listening skills, personal values, decision-making, problem solving and organizational development. It is a web-assisted class. All materials and assignments are on our Canvas course site.
To be successful in these classes you will need to be able to:
use a computer
browse the web
send and receive e-mail
use Microsoft Word and PowerPoint programs
Resources
University of California
This link will take you to the UC transfer website where you will find information on TAG (Transfer Admission Guarantee) Programs, and other transfer information.
CSU Mentor
This is the application and transfer website for the California State University. You can research careers and universities.
ASSIST
This is the official articulation website for public colleges and universities in California. You can find the lower division major preparation agreements between the community colleges and the University of California and California State University campuses.