Art
Art evokes the mystery without which the world would not exist.

– René Magritte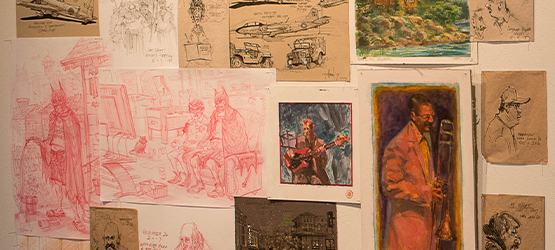 The Cypress College Art Department offers a variety of studio, design, and history courses that encourage exploration, innovative thinking, and traditional and emerging technological approaches to craft and expression. Within the context of the department, art making in its broadest sense, is considered a process, a way of thinking and communicating, and an agent for change. Concept, critical thinking, history, collaboration, storytelling, craft, and process are primary learning outcomes in all department courses. Students develop foundational analytic and studio skills to articulate the interconnection between art and life. To this end, the faculty and staff are deeply committed to the success of their students and work to prepare them to be competitive for transfer to four-year universities or art and design schools, ultimately, a career in the arts.
---
What You'll Study
Fundamentals of Art
Art
Art History
Modern Art History
Arts of Africa, Oceania and Indigenous North America
Two-Dimensional Design
Three-Dimensional Design
Digital Art
Color Theory
Printmaking
Sculpture
Crafts
Ceramics Handbuilding
Ceramics Throwing
Technical and Conceptual Ceramics
Ceramic Studio Exploration
Ceramic Aesthetics and Finishes
Art Open Laboratory
Gallery Studies: Exhibition Preparation and Installation Techniques
Gallery Studies: Exhibition Organization and Management Techniques
Portfolio Development and Professional Practices
Contemporary Art Studio
Jewelry Design
Metalsmithing
Drawing
Life Drawing
Life Painting
Portrait Painting
Painting
Latin American Art
Illustration
Catalog
Visit our catalog for more information about the degrees and certificates, courses, and program learning outcomes for students majoring in Art.
---
Careers & Salary
Careers
Art Teacher, Postsecondary
Craft Artist
Fine Artist
Painter
Sculptor
Illustrator
Secondary School Teacher
Salary
Low: $22k
Average: 462k
High: $187k
---
What Students Say
"My first art professor at Cypress really inspired me. He not only taught valuable knowledge and assigned interesting projects, but also helped me believe in my art skills and ability. Hence, I chose art with a concentration in graphic design as my major."
Nhi Nguyen
---
Faculty
Donivan Howard
Paul Paiement
Adjunct Faculty
David Anderson
Gail Arriola-Nickell
Mary Beierle
Holly Boruck
Rochelle Botello
Todd Brainard
Kimberly Burch
Carleton Christy
Nzuji DeMagalhaes
Evelyn Erickson
Zara Feeney
Daniela Gutierrez
Robert Huerta
Angela Lessing
Jeff McMillan
Kimberly Morris
Ruby Osorio
Cleveland Palmer
Kaleeka Quaye
John Radosevich
Seija Rohkea
Nathan Rohlander
Heather Walker
Carol Zou
Art Department
Location: Fine Arts Building, Room 200
T: (714) 484-7134
Department Chair: Donivan Howard, dhoward@cypresscollege.edu