Media Arts Design (MAD)
Design is the intermediary between information and understanding.

– Richard Grefé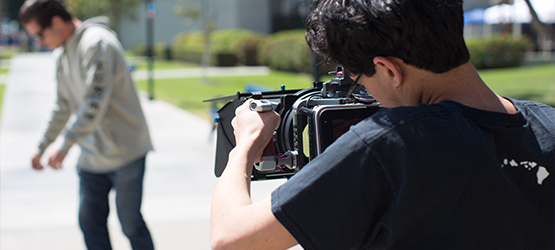 MAD is the digital art program located in the Fine Arts Division of Cypress College. Our courses and certificates explore both the creative and commercial use of digital art technologies and equip students with the skills necessary to obtain employment, update job skills and provide a foundation for transfer to 4-year universities, art and design schools, and the marketplace.
Classes are offered for both Mac and Windows.
---
What You'll Study
Media Arts Design
Web Design
3D Graphics
Social Media Vlog Production
Motion Graphics
Digital Video Production
Animation History and Technology
Media Writing
Electronic Illustration
Graphic Design
Multimedia Mobile Design
Modeling
History of Graphic Design
Electronic Paint
Digital Imaging
Desktop Publishing
Animation
Multimedia Web Design
The Film Business-Conception to Exhibition
Video Editing
Cinematography
Preproduction for TV, Video, and Film
Digital Video Explorations
Documentary Digital Cinema
Live Event Video and Audio Production
Motion Graphics
Single Camera Production
Contemporary Art Studio
Film Noir Genre
Great Directors of Cinema
2D Animation
Motion Picture Production
Science Fiction Film Genre
Silent Film Genre
Western Film Genre
Horror Film Genre
Computer Graphics Studio
Storyboarding, Comics, Pre Visual
Typography for Media Design
Visual Development and Layout
Projection Mapping for Live Entertainment
Storyboarding and Layout
Media Arts Design Internship
Catalog
Visit our catalog for more information about degrees and certificates, courses, and program learning outcomes for students majoring in Media Arts Design.
---
Careers & Salary
Careers
Commercial Designer
Industrial Designer
Graphic Designer
Broadcast News Analyst
Film and Video Editor
Producer
Director
Radio Announcer
Television Announcer
Art Teacher
Craft Artist
Fine Artist
Painter
Sculptor
Illustrator
Secondary School Teacher
Multimedia Artist
Animator
Salary
Low: $18k – $31k
Average: $61k – $65k
High: $117k – $208k+
---
Faculty
Adjunct Faculty
John Bilotta
Geoff Chu
Charles Gray
Todd Howard
Jeff McMillan
West Richins
Thomas Shimanek
Jeremiah Thompson
Paul Wenner
Dennis Wright
Media Arts Design Department
Location: Fine Arts, Room 220
T: (714) 484-7030
Department Chair: Katalin Angelov, kangelov@cypresscollege.edu