Registered Nursing
Who inspires me to be a nurse? Every nurse who doesn't turn their back on nursing students, or graduate nurses, every nurse who acknowledges it's okay and simply human to make foolish mistakes, every nurse who takes a moment of their time to help when you're scared, and every nurse who remembers what it's like to be a beginner.

– Anonymous Nurse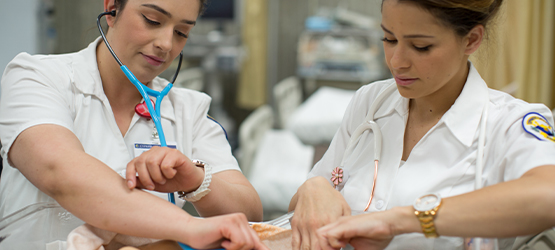 The Registered Nursing Program will prepare you to become a Registered Nurse. Our program offers instruction in the classroom, along with clinical experience in hospitals and other health care and community agencies.
Upon completion of the program you will be eligible to take the California RN Licensure Exam, NCLEX.
---
Required Health Insurance
Incoming Registered Nursing Students: Recent changes in health care have caused clinical facilities to mandate that all nursing students carry health insurance. All nursing students must have documentation of health insurance to be allowed to provide patient care in the clinical areas. This required health insurance differs from the mandatory health fee collected from each enrolled Cypress College student.
For students who do not have health insurance, this process needs to be started through Covered California as soon as possible since the process may take several months.
---
What You'll Study
Nursing Transitions
Strategies-Success in Nursing
Nursing Independent Study
Basic Health Assessment
Intro to ECG Interpretation
Pain Management for Nurses
Orthopaedic Patient Care
Nursing Concepts
Pharmacology in Nursing
Fundamentals of Nursing
Medical-Surgical/Gero Nursing
Medical-Surgical Nursing
Maternal/Newborn Nursing
RN Practicum and Career Development
Mental Health Nursing
Geriatric Nursing
Child/Family Nursing
Catalog
Visit our catalog for more information about the degrees and certificates, courses, and program learning outcomes for students majoring in Registered Nursing.
---
Careers & Salary
Salary
Low: $64k
Average: $100k
High: $151k
---
What Students Say
"I am most proud of my class for becoming registered nurses."
Musab Awad
---
Faculty
Beena Eapen
Michael Faraci
Jen Galich
Christine Hoang
Shinah Ji
Rose Kirby
Ryan Ortega
Thu Pham
Marredda Williams
Adjunct Faculty
Victoria Abatay
Robert Cadena
Michelle Cavalieri
Mandy Chau
Paulette Evanuska
Anne Herzog
Katherine Kong
Toni McCain
Jennifer Rivera
Maria Soto
Michelle Vargas
Registered Nursing Department