Jim Simmons, B.M., M.F.A.
---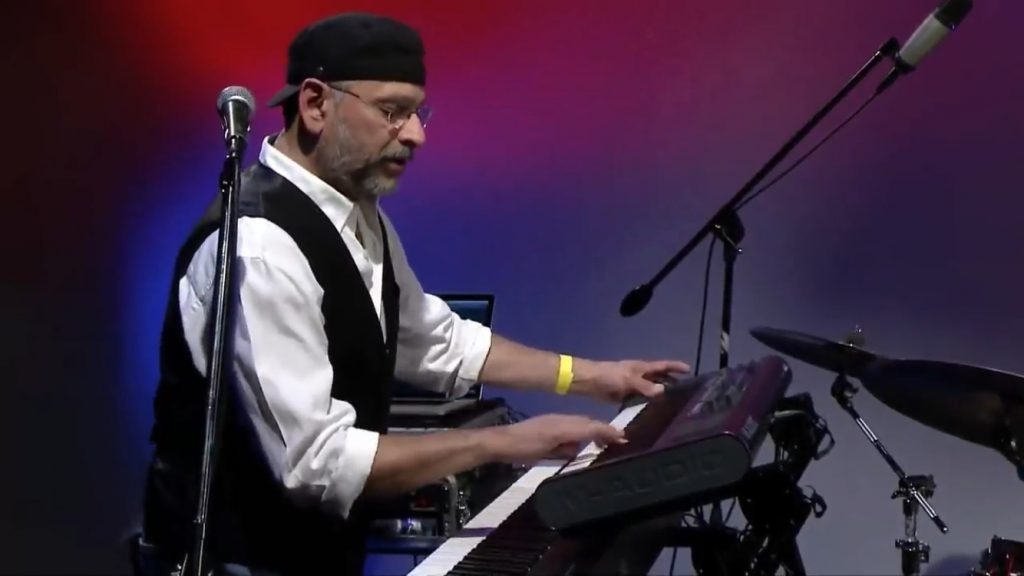 Email: jsimmons@cypresscollege.edu
Phone: (714) 484-7139
Office Hours: By appointment. Email to schedule.
Location: Fine Arts Building (FA), Room 210
---
About Professor Simmons
Jim Simmons is a keyboardist/pianist/composer/arranger/producer based in Long Beach. Over the years he has performed or recorded with a diverse group of artists in different genres of music including: Contemporary Jazz guitarist James Christopher, smooth jazz saxophonist Damon Rentae, children's music singer/songwriter Renee Smith, jazz artists Darek Oles, Joey Sellers, Dr. Bobby Rodriguez, and country and western singer, Johnny Lee. He currently leads his own fusion jazz ensemble, The 4 Level Interchange.
Jim has performed at the 2005 Long Beach Jazz Festival, and with the Cal State Long Beach Jazz orchestra at the 2003 Fullerton College Jazz Festival where he was awarded an IAJE Citation for Outstanding Musicianship for his piano solo on "Joy Spring".
Jim received his bachelor of music from Cal State University of Long Beach in 2005, studying under jazz pianist Cecilia Coleman, and received his Master of Fine Arts from the University of California Irvine in 2007 under the tutelage of virtuoso jazz pianist/keyboardist and Miles Davis alumni, Kei Akagi.
Jim is a Certified Pro Tools Instructor and Certified Apple Pro Logic User. He has been teaching the History of Rock Music at Cypress College for the past two years.
Recommended Course
MUS 119 C History of Rock Music
This is a thought-provoking, insightful, and entertaining class in studying rock music. Hopefully, you will not only learn about music that you already enjoy, but also gain an appreciation for styles that you either have not been exposed to, or have a negative opinion about. Sometimes understanding the background on a styles' origin, place in history, and early pioneers offer a newfound respect that you would never have afforded, except for studying it in a class such as this. And if that was not enough, it is three units Fine Arts credit transferable to both CSU and UC systems.
Classes
MUS 119 C History of Rock Music
Course Description
UC/CSU, AA GE, CSU GE, IGETC
From its earliest beginnings to the present day, this course surveys the inception, evolution, and development of Rock music in America and abroad. In addition to in-depth studies of Rock music and the artists who created it, students will examine the sociological, political, and economic conditions which influence its development.
Course Materials
Required Textbook: Covach, John and Andrew Flory. What's That Sound, 4th edition, New York: W.W. Norton and Company 2014. ISBN:978-0-393-93725-1.
May be purchased at the Cypress College Bookstore.
Supplementary Online Content: What's That Sound Study Space
Student resource site for What's That Sound.
Course Work
Weekly short paragraph assignments based on chapter material.
Album Review: major writing assignment. Guidelines detailed in syllabus.
Concert Report: attend a live performance during the current semester of any genre of music (Rock, Rap, Country, Jazz, EDM, Gospel, Musical Theater). Detailed guidelines in syllabus.
Online Course Resources
Resources
Rock And Roll Hall of Fame
The home site for the Rock and Roll Hall of Fame.
Rolling Stone Magazine
The leading publication on music, film, and popular culture.
Wolfgang's Vault
A site comprised of photography, marquee posters, and memorabilia taken from Rock impresario Bill Graham's archives. These date from the psychedelic era of Haight Ashbury through today.