Cypress College Holocaust Survivors Photo Gallery
---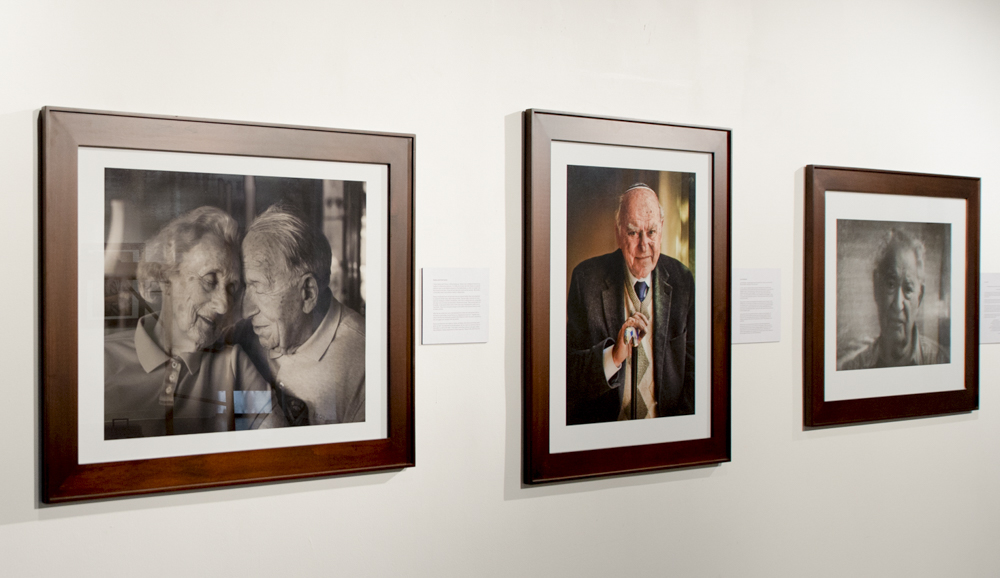 "First they came for the Socialists, and I did not speak out—
Because I was not a Socialist.
Then they came for the Trade Unionists, and I did not speak out—
Because I was not a Trade Unionist.
Then they came for the Jews, and I did not speak out—
Because I was not a Jew.
Then they came for me—and there was no one left to speak for me."
—Pastor Martin Niemöller

In 1945, after Hitler decimated the robust Jewish population of Europe with the horrors of the camps and gas chambers, a precious few Jews would find themselves deemed "survivors". With families murdered and life as they once knew it now a faded memory, many Jews assimilated into the world at large with a determination to continue living, one day at a time, in search of meaning and hope.
The desire to honor the memory of loved ones lost, motivated the Jewish population to slowly moved forward and make the days that lied ahead filled with purpose. Some would find solace in celebrating the rich Jewish traditions and honoring the holidays, while others dedicated their lives to giving back and making a commitment to carve something out of the ruins their lives had been brought to.
This incredible group, the survivors of the Holocaust, has left a legacy for the generations that follow- a legacy of love, caring for others, and living a life of purpose. Their determination to survive has now transformed into a commitment to speak out about the horrors of the past in order to ensure that in the future, we accept all people, no matter their color, race, creed or religious belief.
At Cypress College, we celebrate our Diversity. As we remember the struggles and challenges of the past, we should all look forward with hope and confidence that tomorrow will bring change, acceptance and that we all should have a voice.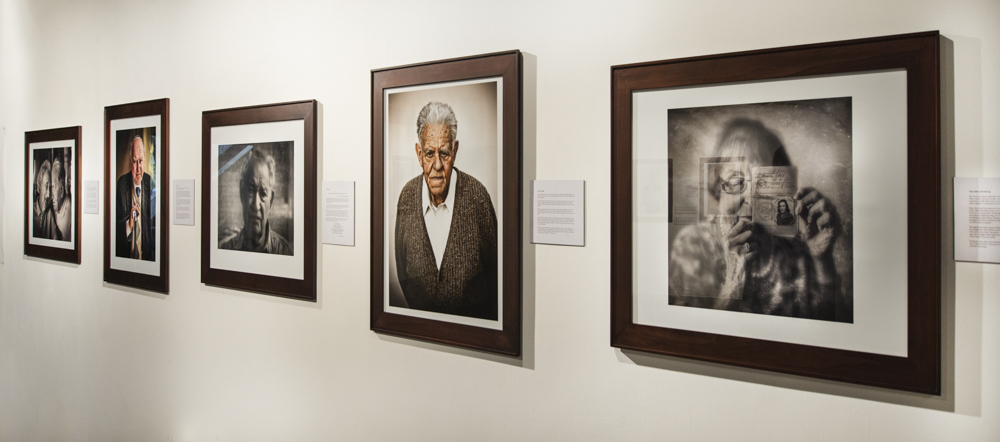 "These images take a look at the human spirit and the determination for survival. As we take a glimpse into their eyes, it is my wish that they emerge "victorious" over the evil that befell their loved ones. We will ensure that their spirit will forever live on, if we maintain respect for our fellow man."
Clifford Lester, Professor
Cypress College

Dedication
On May 3, 2017, Cypress College held a dedication and ribbon-cutting ceremony for the new Holocaust Survivors Photo Gallery in the second floor hallway of the Student Center. The gallery features photos taken by Photography Professor Clifford Lester, whose mother was a Holocaust survivor. Dr. Jacob Eisenbach, a Holocaust survivor and the keynote speaker at Cypress College's 2016 Yom HaShoah event, praised the college for opening the gallery and making inclusiveness and peace a priority.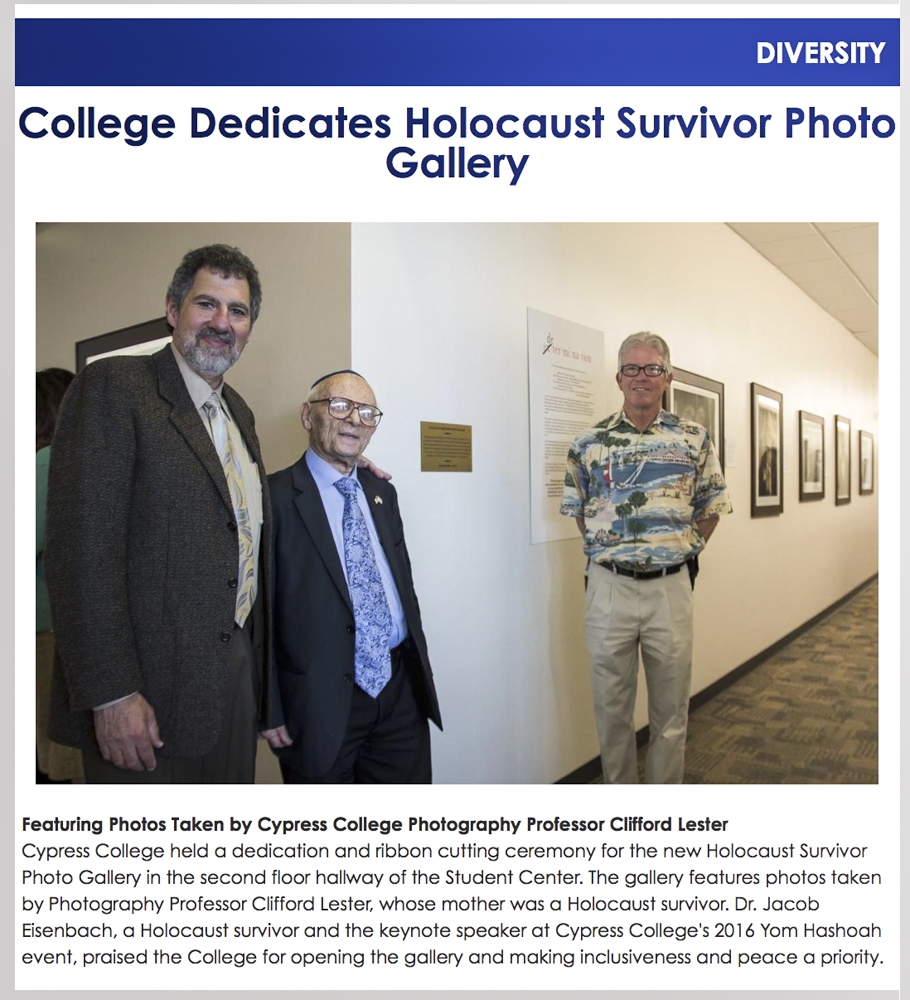 Per the plaque: Photographed by Professor Clifford Lester, this gallery honors the spirit of Holocaust survivors and their devotion to expanding peace, understanding and acceptance. This work and this space keep their message of hope and perseverance alive. Dedicated May 3, 2017.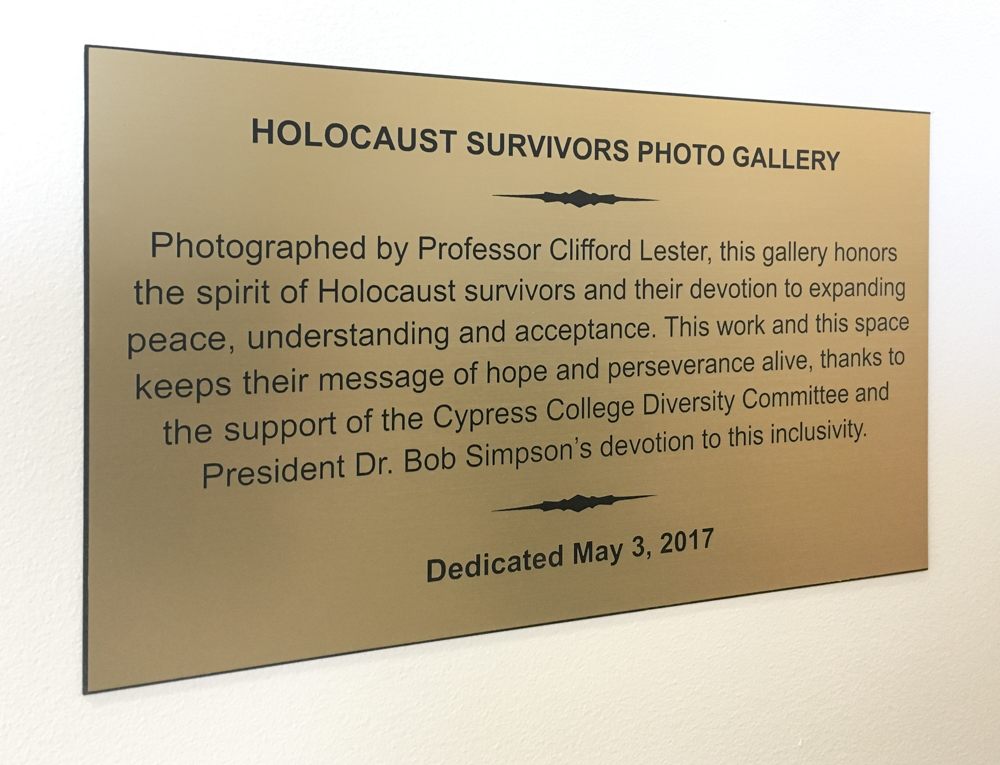 Gallery Location and Hours
The Holocaust Survivors Photo Gallery is located in the Student Center in the hallway on the second floor. Hours mirror those of Admissions & Records.
Gallery Expansion
The Holocaust Survivors Photo Gallery has expanded to the fourth floor of the Cypress College Complex. Be sure to visit both locations. Hours here are 8 a.m.–5 p.m.