Transfer Facts to Know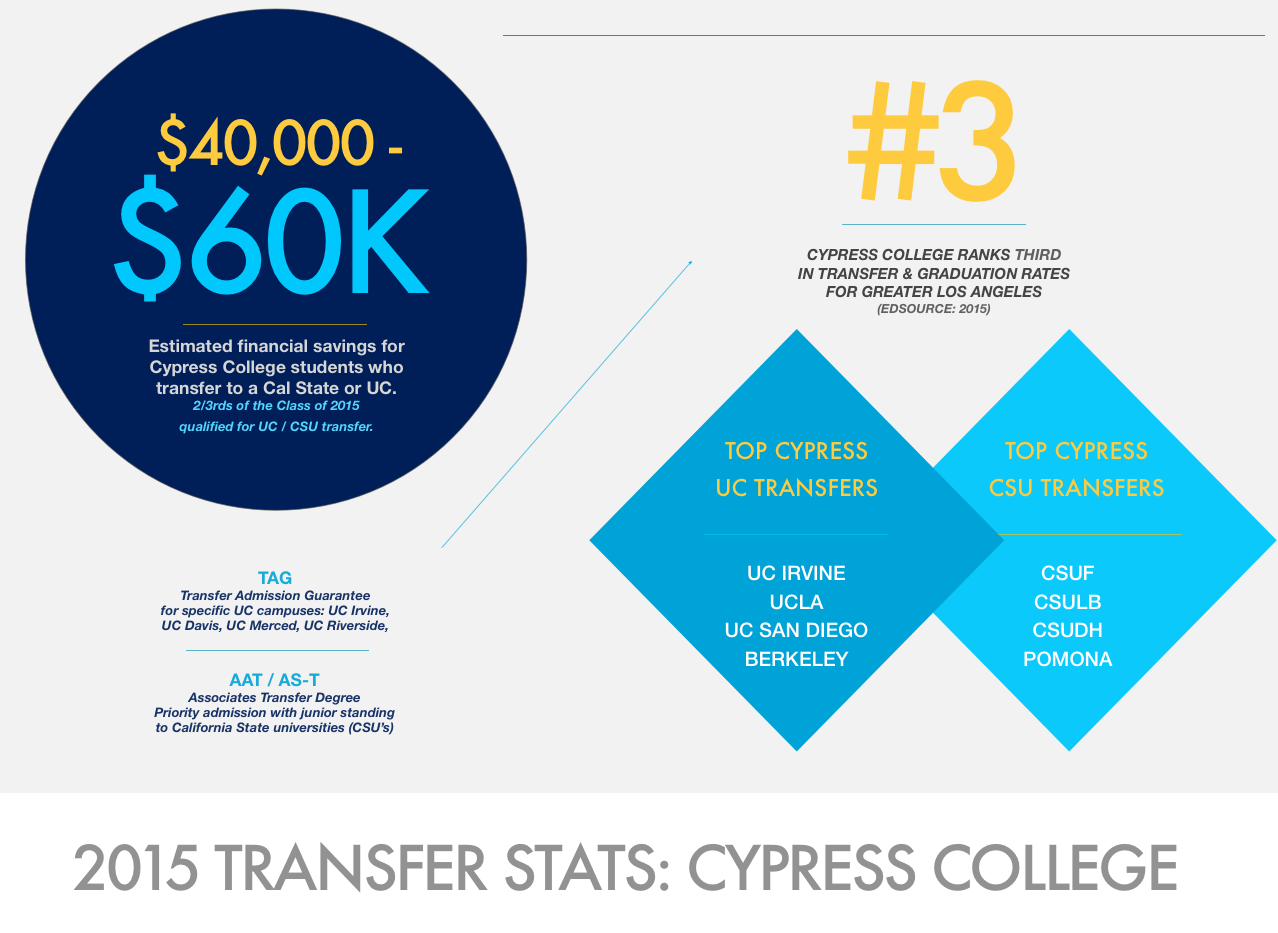 Are you planning to transfer? If so, you're at a great place to that end. Cypress College is recognized as one of CA's very best community colleges; a feeder school to top local, state, and national four-year institutions. Of the 112 California Community Colleges, we're ranked third in the region for our overall transfer and graduation rates (and third in the state for the totality of student success metrics). In fact, nearly 2/3rds of our Class of 2015 graduates certified for transfer to a Cal State and/or UC. Why is Cypress a solid post-secondary choice for so many?
Several reasons: 
1) Clear, simple and guaranteed transfer pathways
It's now easier than ever to transfer to a Cal State or UC from a community college in two-years. Here's what you need to know to transition:
For CSU's: Earn priority admission to the California State University system with junior standing once you earn an Associate Degree for Transfer in the Arts or Sciences (AA-T or AS-T). This joint transfer program with the CSU offers students a clear and simple path to move from Cypress to a Cal State. Simply complete 60 transferable units here (transfer credit courses indicated with an asterix in the course catalog), then complete another 60 at a Cal State to receive your bachelor's degree. Speak with your counselor for planning purposes, and visit ADegreeWithAGuarantee.com. Throughout fall semester, the Transfer Center hosts CSU Application Workshops. Learn more and sign-up 30 days days in advance here. More information on the CSU application filing period below.
For UC's: Select UC campuses offer Transfer Admission Guarantees (TAG). This program provides guaranteed admission to a specific university, provided you meet certain conditions. TAGs are available for the following schools: UC Davis, UC Irvine, UC Merced, UC Riverside, UC Santa Barbara, UC Santa Cruz. Start your planning with a counselor early, and attend a TAG Workshop. To RSVP and more visit our Transfer Center UC page. For honors scholars looking to transfer to UCLA or Berkeley, additional support is available via the TAP – Transfer Alliance – programs. For UCLA, info is available here. For Cal, info is available here.
In addition to TAG, the UC's have also recently (July 2015) launched a new academic roadmap for California Community College students who plan to apply for transfer to UC campuses. The Transfer Pathways, created by UC faculty, outline a single set of courses that will prepare transfer students for a particular major at any of the university's nine undergraduate campuses, and help students graduate from UC within two years after their transfer. The new pathways initially will cover 10 of UC's most popular majors: anthropology, biochemistry, biology, cell biology, chemistry, economics, mathematics, molecular biology, physics and sociology. The university plans to create pathways for another 11 majors later in 2015. More information on the Transfer Pathways initiative here.
2) Rising Four-Year Tuition Costs.
Smart = savvy. Especially when it comes to finances. Why spend $60,000+ on your first two years of college when you can get the same – if not better! (student : faculty ratios) education at Cypress? Students who do their first two years at Cypress College before transferring to a CSU save at least $40,000; this increases to upwards of $60,000 for a UC.
3) Compelling data. 
Stats show that California Community College transfers outperform native 4-year college students, especially in the STEM disciplines. For example, nearly half of all UC grads in the sciences, math, technology and engineering fields are CCC transfers. That speaks highly to the calibre of our faculty and the quality of our students' academic preparedness and overall experience.  For more about Cypress' esteemed STEM program visit their page here.
4) College Options.
If UCLA is your #1, why are you going to pay upwards of $100,000 for another option? You don't have to settle, you can transfer. Lots of students do.
5) Superb faculty, low student-to-professor ratio, better general education base
Our faculty know the best because they're from the best… and many started at Cypress College. Cal Tech, Pasadena Art Center, UCLA, USC, Bowdoin College, Cornell University, the list of alma mater goes on…. Many are also esteemed industry experts, highly respected in their chosen fields. Most important, with a passion for teaching (research secondary), students are always first.
In Ambers' words:
2015 Outstanding Graduate of the Year Amber Stoebe (CSUF, Kinesiology) speaks to several of these factors: "Coming to Cypress was honestly the best decision I could have made. I had a high GPA in high school, but didn't want to go straight to a 4-year university when I was still unsure of my major and career. I didn't want my parents to spend a lot of money at a large college when I could get the same education — if not better! — at a community college. I was confident my senior year that Cypress was my school of choice."
More about Amber's story, path and plans here.
Stephanie Garcia (CYProud, 2015 Graduate; Puente Student and Transfer Center Student Hourly)
Accepted into CSULB and UC Davis. More about Stephanie here.



CSU & UC Application Filing Periods
CSU Filing Period / Term –
Fall Semester / Quarter 2016: Oct 1-Nov 30, 2015
Winter Quarter 2016: June 1-30, 2015
Spring Semester / Quarter 2016: August 1-31, 2015
(Not all CSU's will be accepting Spring apps)
UC Application Filing Period / Term –
(All UC Campuses except Berkeley & Merced)
Fall Quarter 2016: Nov 1-30, 2015
Winter Quarter 2016: July 1-31, 2015
Spring Quarter 2016: Oct 1-31, 2015
Berkeley & Merced Filing Period –
Fall Semester 2016: November 1-30, 2015
Visit the Transfer Center to sign up for workshops, stay connected to the calendar and more!