Join the next Puente Familia!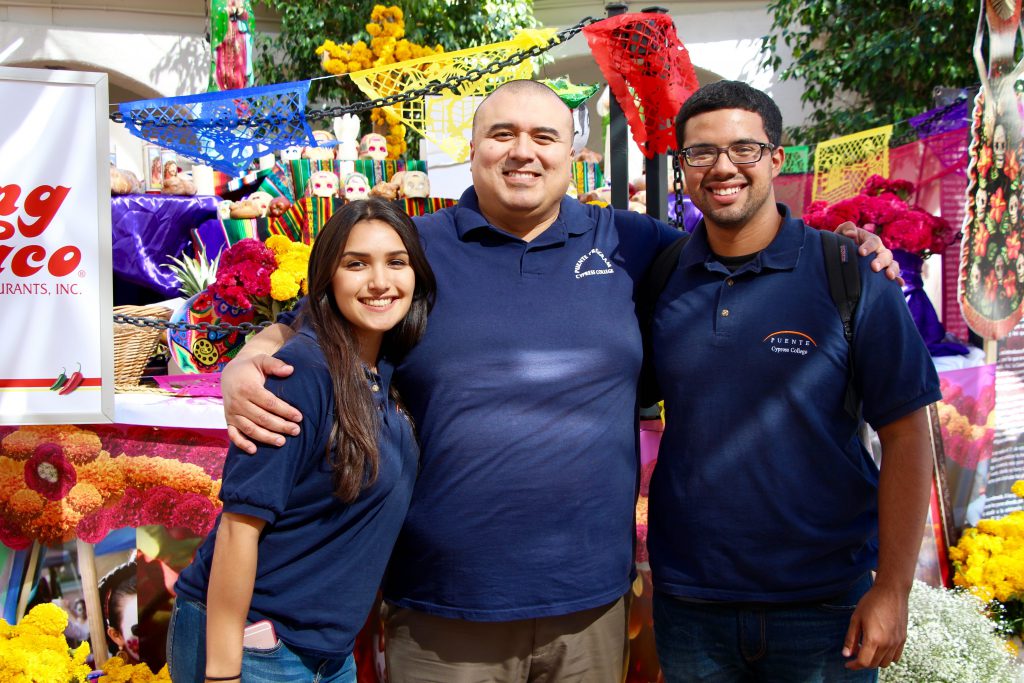 What is Puente? 
The Puente Project was originally founded in 1981 by Co-Directors, Felix Galaviz, and Patricia McGrath, at Chabot College in Hayward, California. The program mission was to increase the number of Mexican American and Latino community college students who transfer to four-year colleges and universities. As an outgrowth of its success as a community college program, Puente was awarded funding in 1993 to replicate the program in 19 California high schools.
Today, the mission of the Puente Program is to increase the number of educationally underserved students who enroll in four-year colleges and universities. Puente's objective is to assist these individuals to earn degrees and to return to the community as leaders and mentors to succeeding generations. Puente is open to all students.
How does it work?
Three main components work together to prepare Puente students to transfer to four-year colleges and universities.
ENGLISH COMPONENT. Puente students work closely with their Puente counselor to improve study skills, explore career options, develop an academic educational plan, and identify lifetime goals. Students also tour university and college campuses, and attend an annual Puente Transfer and Motivational Conference.
MENTORING COMPONENT. Each Puente student is matched from the business or professional community. Mentors share their personal, academic, and career experiences with students and provide a window into "real life" work environments. The network of trained Puente mentors provides many resources for the Puente students.
In addition to the mentors from the business and professional community, the Cypress College Puente Program also provides an opportunity for students to work with peer mentors. Peer mentors are former Puente students who have successfully completed the Puente Program and are still working on accumulating their transfer credits. These peer mentors offer guidance, support and encouragement to the current Puente class members. The peer mentors help extend the feeling of familia from one generation of Puente students to the next.
SPECIAL ACTIVITIES. In addition to the three main components, Puente students also participate in a number of special activities, including the Mentor-Student Dinner, Family and Friend Potluck Dinner, and the Graduation Dinner. Puente also coordinates other social and cultural activities such as field trips to local museums, bookstores, and theaters. The objective of the program is the encourage Puente students to introduce themselves to the many educational, cultural and social opportunities in the area.
View stories and photo galleries of Puente special activities:
In 2015-16, Puente visited 11 institutions of higher-education throughout California from up north at Berkeley to down south at UC San Diego, and went to 5 theater performances in Orange County and Los Angeles. They also gathered for bonfires on the beach and weekend meals at the homes of faculty.
What do I need to be a Puente student?
Any student who is qualified to take English 60 (according to the Cypress College English placement test) and has not taken Counseling 150. Those students who are willing to make a year-long commitment to the program may submit and information sheet. Prospective students must be willing to make a commitment to support and attend the many additional activities and events sponsored by the program. Prospective students should also be particularly interested in Mexican-American/Latino culture as the class material and literature draws heavily from those sources.
What are the benefits? 
Puente can be particularly helpful to those who are first-generation college students. Learning how to negotiate the college system can be a difficult and sometimes frustrating task. Puente works to give students the skills and information they need to succeed: writing skills, study skills, academic planning, financial aid information, career planning, personal counseling, etc. Each year, the most outstanding Puente student in the class is awarded the Lupe Mosqueda Scholarship as recognition for his/her academic achievement. Even after students graduate from the program, Puente continues to offer the support and encouragement students need to complete their community college education.
Consequently, many Puente students succeed academically and are recognized as leaders and scholars in their field. They go on to graduate from four-year colleges and universities. They belong to a statewide network of leaders and professionals. They achieve their goals.
View the stories of Stephanie Garcia and Amalia Sanchez – 2015 #CYProud Cypress Puente Graduates!
How do I learn more about the program?
Information orientation sessions will be held for the fall program. During the orientation sessions, students will get an overview of the program and will have the opportunity to meet a mentor, talk with former Puente students, ask any questions they may have, and learn the details of the registration and assessment process.
PLEASE NOTE!
All students who are interested in the program must attend an orientation session to understand the full extent of the Puente Program commitment. Puente openings occur only once a year in the fall semester, and the class is limited to 30 students. Students are admitted on a first-come, first-served basis as they qualify by placement for the class. To assure a spot in the upcoming Puente class, it is important to attend an orientation in order to understand this registration process. If you are unable to make an orientation but have an interest in the program, contact one of the coordinators listed below:
Dr. Therese Mosqueda-Ponce
Puente Counselor
Puente Co-Coordinator and Humanities Counselor
(714) 484.7180
Office: Student Center, 2nd fl., Rm. 211
Kathryn T. Sonne
Honors Program Director
Professor of English
Puente English Instructor
(714) 484.5035
Office: Student Center, 2nd fl., Rm. 2016
#Puente #PuenteProgram #CypressCollege