Hotel, Restaurant, Culinary Arts
Anybody can make you enjoy the first bite of a dish, but only a real chef can make you enjoy the last.

– Francois Minot
Cypress College's Hotel, Restaurant, Culinary Arts Program engages students in a hands-on, state-of-the-art learning environment designed to prepare students to become leaders in the hospitality and culinary industries.
Dedicated culinarians and hospitality professionals guide students through the Hotel, Restaurant, and Culinary Arts program offerings, which prepare students for a challenging career.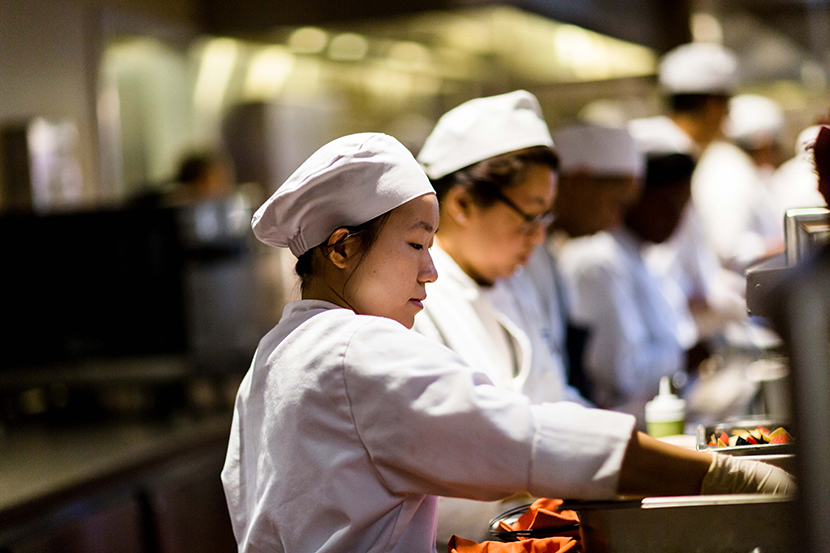 ---
What You'll Study
American Regional Cuisine
Baking Fundamentals
Beverage Management
Cost Control in Hospitality
Culinary Fundamentals
Hospitality Career Capstone
Hospitality Law
Hospitality Leadership
Hospitality Management
Hotel Operations
Menu Planning and Purchasing
Nutrition
Pastry Arts
Restaurant Management
Sanitation and Safety
Special Event Management
The Art of Garde Manger
World Cuisine
Catalog
Visit our catalog for more information about the degrees and certificates, courses, and program learning outcomes for students majoring in Hotel, Restaurant, and Culinary Arts.
Note About Courses
All Cypress College Hotel, Restaurant, Culinary Arts classes are located at the NOCCCD Anaheim Campus, located at 1830 W. Romneya Drive, off Euclid between the 5 and 91 freeways.
---
Careers & Salary
Careers
First-Line Supervisor of Food Preparation and Serving Worker
Food Service Manager
Lodging Manager
Meeting, Convention, and Event Planner
Chef and Head Cook
Cook, Institution and Cafeteria
Cook, Private Household
Cook, Restaurant
Cook, All Other
Salary
Low: $22k
Average: $35k
High: $109k
---
What Students Say
"Cypress College played a significant role unfolding my path in this industry. Our instructors in this program show commitment and dedication toward our education and careers. They prepare us by sharing their experiences and achievements in this complex, yet amazing, industry."
Rogelio Dominguez
"At first, I chose Cypress College for geographical reasons. I'd recently moved, and it was closer to my new home than Orange Coast. I soon discovered that there was so much more to it than that. I immediately noticed the welcoming atmosphere. I quickly found out that the Hotel, Restaurant, Culinary Arts program would give me all of the skills and practical knowledge I needed to pursue a career in the hospitality industry."
Sarah Brazer
---
Hotel, Restaurant, Culinary Arts Department
Location: 1830 W. Romneya, Anaheim, NOCCCD Anaheim Campus, Rooms 175-177
T: (714) 808-4639
Department Chairs: Lisa Clark, lclark@cypresscollege.edu
Amanda Gargano, agargano@cypresscollege.edu