English: Composition, Literature, and Creative Writing
The function of education is to teach one to think intensively and to think critically. Intelligence plus character—that is the goal of a true education.

– Dr. Martin Luther King Jr.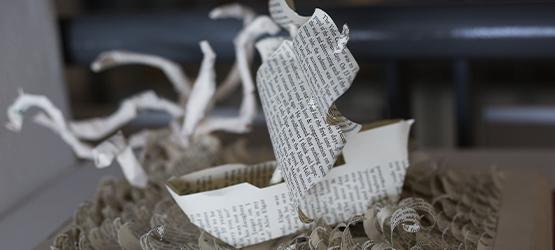 The Cypress College English Department offers a transfer program that includes composition, literature, creative writing, and humanities. Our mission is to provide courses that are innovative, flexible, and challenging to meet academic standards for transfer, vocation, and personal development. The program offers online, hybrid, accelerated, and learning community classes, as well as an AA in English degree.
English Department faculty strive to support and advance students' abilities to read, write, and think both analytically and creatively.
---
Notice
You are now able to use the Guided Self-Placement tool instead of taking an assessment test for English or math. To use the tool:
Log in to myGateway
Got to the Cypress Tab
Select GSP
---
What You'll Study
English Skills
Basic Study Skills
Reading & Writing
College Writing Preparation
College Reading Strategies
College Writing
Literature
Critical Reasoning and Writing
Critical Analysis and Literature
Creative Writing
Critical Reading, Writing and Thinking
Writing the Personal Statement
Humanities: Ancient and Medieval
Humanities: Renaissance-Present
Academic Reading and Study Strategies
The Film
Screenwriting
Poetry Writing
Short Story Writing
Creative Nonfiction Writing
Grammar and Usage
College Study Strategies
Asian American Literature
English Literature
American Literature
Literary Journal Publication
Shakespeare
Children's Literature
Mythology
Multicultural Literature
Science Fiction
African-American Literature
Arabic Literature
Writing in the Health Sciences
Catalog
Visit our catalog for more information about the degrees and certificates, courses, and program learning outcomes for students majoring in English.
---
Careers & Salary
Careers
English Language Teacher
Literature Teacher
Secondary School Teacher
Writer
Author
Salary
Low: $43k
Average: $81k
High: $200k
---
What Students Say
"Above all, the faculty anchored me to Cypress. I was thrilled by their dedication, passion, knowledge for their subjects, and their willingness to always meet with me during office hours to talk. I felt valued and included in a way I'd never experienced from past teachers."
William Conley
"I've also been fortunate to have some of the best professors. They are knowledgeable, empathetic, helpful and, most importantly, passionate. None are just going through the motions of teaching, but rather, really taking pride in what they do. Their passion helps me to feel excited for what's to come!"
Jolene Gazmen
---
Faculty
Justin Campbell
Kendyl Covey
Janet Fujimoto
Alejandro Omidsalar
John Payne
Ashton Politanoff
Stephanie Tran
Adjunct Faculty
Tamar Altebarmakian
Jacqueline Barretto
Justin Brewer
Andrea Briseno
Jaime Brody
Idalith Bustos
Judith Castillo
Karen Coley
Mouminat Damer
Letitia Deon
Derrick Drury
Danielle Dymond
Adira Edmund
Dahlia Flores-Salcido
Elaine Folayan
Diane Gabriel
Devon Garcia
Alyssa Garmin
Nicholas Gil
Christy Groves
Jen Ho
Mark Hyer
Brian Jacob
Jason Jenkins
Josiah Jure
Kevin Knowles
Corey Leis
Alexander Lennert
Miles Magnesi
Tyler Malone
Rudith Maravilla
Cassandra Matsuya
Anna Morrison
Janet Nau
Janessa Osle
Levon Parseghian
Alan Passman
Claire Pelonis
Jax Pham
Laura Powell
Maureen Provenzano
Mallory Reeves
Thomas Reynolds
Emily Robles
Martin Salgado
Cara Sharp
Nora Simoes
Bede Ssensalo
Anthony Stevenson
Jon-Erik Tateri
Burlee Vang
Ruby Villarruel
Ann Warren
Amanda Wetrick
English Department
Location: Humanities, 2nd Floor
T: (714) 484-7169
Department Chairs: Joseph Melodia, jmelodia@cypresscollege.edu and Kathleen McAlister, kmcalister@cypresscollege.edu