Fall 2023 Semester Central
---
The fall 2023 semester is here, and we want to prepare you to tackle an exciting and rewarding semester. Read on to: learn about helpful new programs like the Charger Book Pass; get important parking information; see frequently asked questions; learn how to use add codes; and more.
New This Year!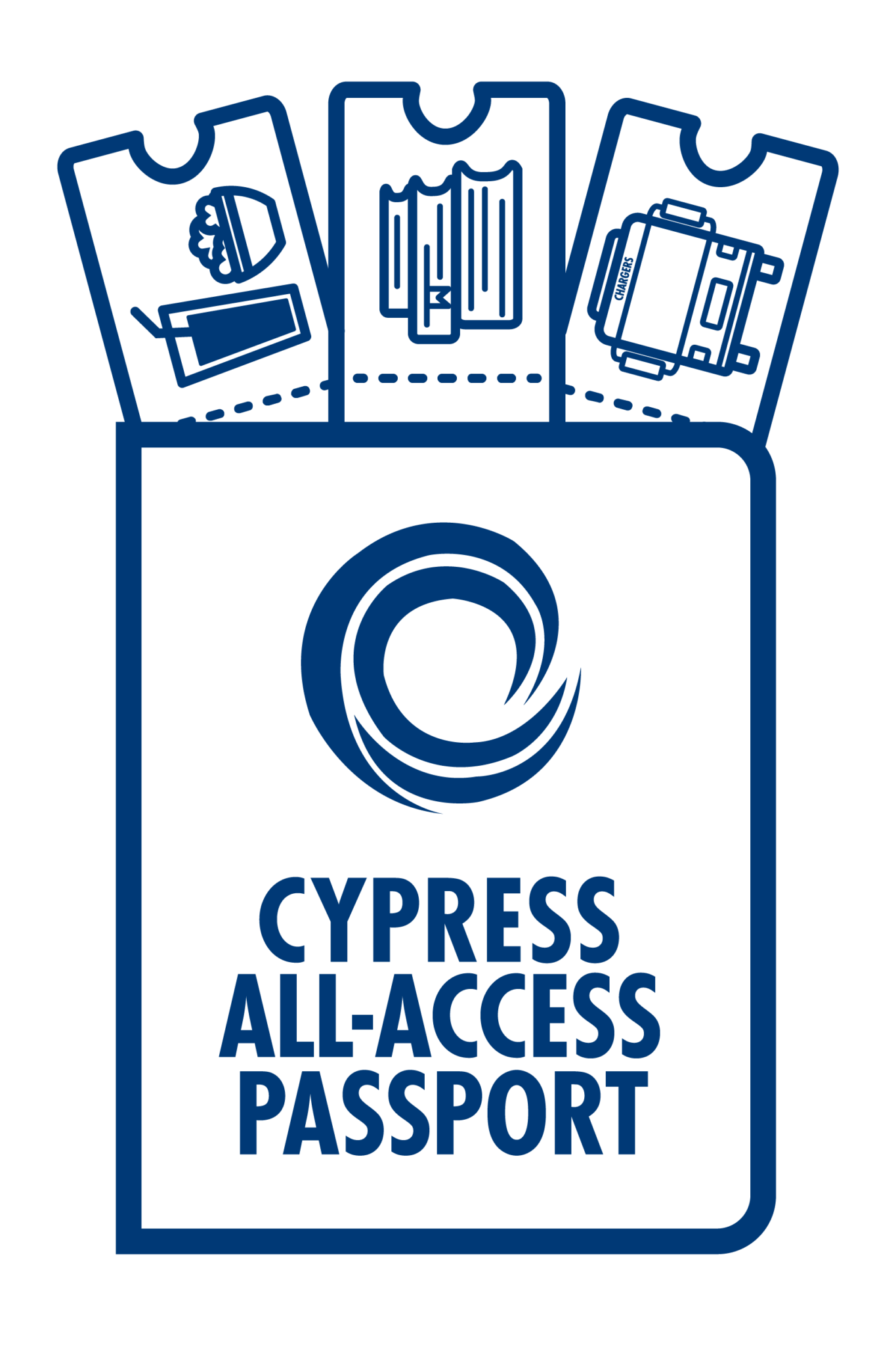 The Cypress All-Access Passport is your ticket to three amazing programs that assist with the additional costs of pursuing higher education brought by textbooks, food, and transportation.
The Charger Book Pass provides all your required textbook-related course materials for no more than $100 per semester. Once you register for any class, you're in the program. Details are available on the Charger Book Pass page.
The Charger Food Pass provides all students with $12 to purchase breakfast and/or lunch at the Charger Cafe Monday-Friday during the semester. You must be a current Cypress College student with a student ID to access this benefit. The $12 do not roll over day to day.
The Charger Bus Pass provides students with an unlimited-ride pass for OC Bus fixed local routes valid throughout the semester. Download the OC Bus app and create an account with your Cypress College preferred email address to access your pass.
---
Parking Registration and Permit
Parking for the fall 2023 semester is free. To access this free parking, all you have to do is register your vehicle and a fall permit will be available for pick-up in Campus Safety (BUS, 1st floor facing Lot 1). Vehicle permits are static cling and can be used on multiple vehicles. Motorcycle permits are adhesive stickers. All vehicles that will be parked on campus must be registered in the system.
Enforcement of parking permits will begin Monday, September 4. Click here for step-by-step instructions on how to register your vehicle(s) with this new system, and use the buttons below to register your vehicle or motorcycle.
When registering your vehicle, you will need:
An active student ID number
Vehicle license plate number
Vehicle Identification Number (VIN)
Vehicle color
Vehicle make
Vehicle model
Basic Needs & Other Resources
Food Pantry
The Cypress College Food Pantry, located in the Student Life and Leadership Center, is offering food distribution services on campus throughout the semester. This service will be available once a week every Wednesday, excluding holidays, at 9 a.m. – 12 p.m. and 2–4 p.m.
Please check with the Food Pantry at this link for more details.
A bag of fresh produce and a bag of dried goods will be distributed per reservation. If inventory is available, some toiletries, hygiene products, and diapers may be requested at the time the reservation is made.
Diaper Pantry
Cypress College students can sign up to request diapers once a month. Submit your request using the Charger Diaper Pantry form and you will receive an email when your diaper request is ready for pick-up. Diaper requests must be submitted each month.
This service is offered on a first-come, first-served basis as diaper availability is limited.
Health Services
The Cypress College Health Center provides a number of important services, including mental health counseling and telemedicine visits via the online Health Center Portal. The center also offers birth control consultations; addresses minor urgent care issues; prescribes birth control and other medications as needed; and provides counseling for nicotine cessation, and weight and nutrition. Visit the Health Center web page for more information here.
Frequently Asked Questions
I'm a new student and need some help getting oriented. What do I do first?
All new students should participate in the online orientation, accessible by logging in to myGateway. Click on "Cypress" in the left-hand menu, then "Cypress College Orientation" in the top box. The orientation provides valuable introductory information to get new students started on the right track.
Have general questions? Reach out to Admissions and Records on the 1st floor of the Student Center or via the Virtual Front Counter where you'll go for questions pertaining to enrollment and registration, transcripts, name and address changes, etc. Have registration questions? Try Express Counseling on the 2nd floor of the Student Center or through Cranium Cafe to meet with a counselor. The Career Planning Center, which helps students figure out their long-term path and assist with employment, and the Transfer Center, which assists students with preparing to transfer to a four-year university, are also available on the 2nd floor of the Student Center or via Cranium Café.
Have questions about Financial Aid? The Financial Aid Office is located on the 1st floor of the Cypress College Complex building (CCCPLX-120) or reach out by emailing financialaid@cypresscollege.edu.
I'm having a problem logging in to myGateway. Who do I contact?
Please email Admissions & Records or the District IS Helpdesk regarding any problems with myGateway.
I want to add a class, but had to go on the waitlist. What do I do?
If you're attempting to add a class and myGateway asks for an add authorization code, it means the class is full or is not available for registration because it has already begun (or is about to begin). Distribution of these codes is at the discretion of the faculty member, and is generally done on the first day of classes. If a waitlist is available for a full class, you should be given the option to be added to it.
When you are on a waitlist (or waitlists), we strongly encourage you to check your myGateway messages channel on a regular basis. If a spot opens up for you, a notification will appear in your messages. We'll also attempt to send you an email. However, some providers (ahem, Yahoo!) aggressively block email from cypresscollege.edu and nocccd.edu.
Waitlists expire at midnight on the day the class begins. That means that on the first day a class meets, there's no longer a waitlist; instead, the list is included in priority order on the instructor's roster as a tool to help faculty with the petition process. So, if you're on a waitlist, you'll need to reach out to the professor on the first day of the class in hopes of obtaining an add code. Likewise, if you're petitioning a class, you'll need to reach out to the professor. Since your name isn't on the roster or waitlist, you'll need to let the instructor know that you're petitioning.
I need textbooks or other supplies from the Campus Bookstore. How can I get what I need?
The Campus Bookstore is your one-stop shop for course textbooks, logowear and branded merchandise, school supplies, and more. The Bookstore offers flat-rate shipping, and also has a textbook rental program. Visit the Bookstore website for more information. .
To find out what textbooks are required for your courses, go to the Bookstore textbook search here. Make sure the term is listed as "Spring 2023." Now choose the department, course, and section that match your course (e.g. if you're taking ENGL 100, CRN: 10122, search department ENGL; course 100 C; and section 10122). Do this for as many courses as you want, then click "Find Materials for # Course(s)." A list of all your courses and their required and/or recommended materials, or important notes about your course materials, will appear.
Hours
Week of August 22: Monday – Friday at 8 a.m. – 5 p.m.
Week of August 29: Monday – Friday at 8 a.m. – 4 p.m.
Does Cypress College offer scholarships?
Yes, the Cypress College Foundation offers a number of scholarships for students. Please keep an eye on the @Cypress newsletter as well as Cypress College website and social media pages for the announcement. Links to several scholarship opportunities can be found on our Financial Aid Scholarships page.
How do I find out about things going on around campus?
The college provides many resources for finding out about events and other ways to stay involved with the college.
The @Cypress newsletter is emailed every Monday and features important news and announcements, upcoming events, campus resources, student and faculty profiles, and employment information.
The college website includes a comprehensive event calendar that can be sorted by day of the week, time of day, and category. Important deadlines for program and graduation applications, scholarships, financial aid, and more are also included.
The college marquee (large digital signboard at the college's main Valley View entrance) includes important news and announcements.
Stay connected to everything going on at the college by downloading Cypress Connect, the college's official app! The event module is like a mini version of the college event calendar in your pocket, and helpful push notifications will remind you about important dates and deadlines as they near.
Have a specific question not addressed here? Check out our Contact Us page to get in touch with someone who can help!
Graduation and Certificate Applications
Planning to graduate or complete a certificate at the end of the semester? You must fill out an application and submit it to Admissions and Records. The priority deadline (for CSU e-verification) is September 11 (11:59 p.m.); the final deadline is September 22 (11:59 p.m.).
Submit your application as soon as possible to get the degree/certificate evaluation process started! For more information about how to submit your application, see the Admissions & Records Graduation page.
Need help with your application? Counselors are available on a walk-in basis during the first two weeks of the semester, and available for appointments weeks 3-14 of the semester.
Financial Aid
The Financial Aid Office (FAFSA School Code 001193) is one of many student services available at Cypress College. Obtaining a college education is one of the most important investments you will make in your lifetime and Cypress College strongly encourages you to apply for financial aid and use the college website to navigate the various resources available to you. The Financial Aid Office staff is available to assist with questions or concerns you may have as you complete the application process.
California College Promise Grant
The California College Promise Grant (CCPG) is focused on ensuring that students who couldn't otherwise afford to attend college are able to pursue their higher education goals. It waives the $46-per-unit tuition fee for qualifying students; eligibility, as well as academic and progress requirements, are available here. Students may apply for the CCPG by completing the FAFSA, Dream Act application, or the CCPG application in myGateway.
North Orange Promise Program
The North Orange Promise Program offers a tuition-free college experience for eligible first-time, full-time college students attending Cypress College, Fullerton College, and North Orange Continuing Education.
Under the program, students who meet eligibility requirements will receive two years of their education completely free of tuition and health fees. Students must be:
First-time college students
High school graduates or accepted equivalency
A California resident, AB540 or DREAM approved applicant
Once accepted into the North Orange Promise Program, students (at a minimum) must:
Enroll full-time for at least 12 units in fall and spring semesters
Complete a current financial aid (FAFSA/CADAA) application
Develop a Student Education Plan with the help of our college counseling team
Earn a minimum 2.0 grade point average in the fall semester to maintain status for the spring
For more information about financial aid, visit the Financial Aid Office pages.
Student Support and Resources
Admissions & Records
For all your application, course registration, academic record, transfer evaluation, and transcript needs, contact Admissions & Records.
Associated Students, Clubs, and Student Activities
You'll find a number of opportunities to get involved on campus, find your passion, and make new friends along the way. Join Associated Students, the college's student government body, or find a club that fits your interests.
Bookstore
Hours soon to be updated.
Campus Safety
At Cypress College, the safety of our students, staff, visitors, and guests is paramount. Campus Safety officers patrol the campus 24/7 and provide a variety of services, including safety escorts, vehicle assistance, reports and investigations, and emergency telephones with quick access to Campus Safety personnel. Emergency procedures are also available through Campus Safety.
Counseling and Student Development
At Cypress College, we want to help you find your passion and forge a path to educational, personal, and professional success. We are with you on your journey from the very beginning, and provide a variety of counseling and student development resources. Start by meeting with a counselor to create your student educational plan. Once you've decided on your major, you will be assigned a counselor who is dedicated to your area of study. Express Counseling is available for those still exploring their educational options and for general registration and other questions.
Planning to transfer to a four-year college or university after completing your studies at Cypress? The Transfer Center will help you explore your options and prepare for transfer with tailored counseling, application assistance, and scholarship information. Workshops are available throughout the semester.
If you're unsure about your path, check out the Career Planning Center (CPC) to discover your interests, values, skills, strengths, and personality; explore college majors, career pathways and occupations; research education and training options, identify and enhance your transferable skills; improve your online presence, personal brand, networking skills, and much more! The CPC holds workshops throughout the semester and also offers online workshops you can access at any time.
Disability Support Services
Disability Support Services (DSS) provides accommodations and services like adaptive equipment, alternate media, learning disability assessment, note-taking assistance, and testing accommodations to students with disabilities to ensure equitable access. Log in to the Charger Access Student Portal here to request accommodations and services.
Special Programs and Learning Communities
Learn more about programs to get you moving in the right direction and jump start your success:
Veterans Resource Center
The Veterans Resource Center (VRC) provides assistance to active duty military, veterans, and their dependents seeking to complete a degree or certificate. It also provides opportunities for peer-to-peer support for academics and wellness as well as camaraderie, mentoring, and social networking. Contact the office here for more information.
For a complete list of the college's student services and resources, please click here.
myGateway
Students may access a number of services and resources through myGateway, including paying for parking permits, student ID cards, and other fees; registering for classes; and checking grades.

If you are experiencing problems, including with login or PIN resets, contact the District Information Services Helpdesk at ishelpdesk@nocccd.edu. For quick help, please refer to the District-provided myGateway help guide.
Register for Classes
Need to fill out your schedule, or forgot to waitlist and want to know if that class you were hoping to take opened up? Check out the spring 2023 searchable class schedule.
You can register for classes without an add code up to the first day of school, Monday, January 23. Be sure to attend the first class meeting! Professors are obligated to drop students who do not attend the first class. If your class does not meet on Mondays, you do not need to attend the first Monday of the semester — just the first day of the class.
How to Use an Add Code
Login to myGateway.
Click on "Add or Drop Classes" under "Registration Tools."
Select "Cypress College" and the term (Spring 2023).
If adding from a waitlist, under the "Action" column change "None" to "Registered–Web" (if you're adding a course without the waitlist, enter CRN at the bottom).
Click the "Confirm Choices" button.
myGateway will respond by listing the course and "INCOMPLETE" in the status column.
Enter the add code in the box to the right of this.
You will now see "Registered–Web" and the date in the "Status" column.
Click "Complete Registration."
You've successfully enrolled in the class.
Be sure to pay any outstanding fees.
Buen Cypress! Have a great semester.